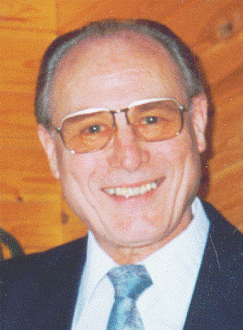 Arne Svensson late 1999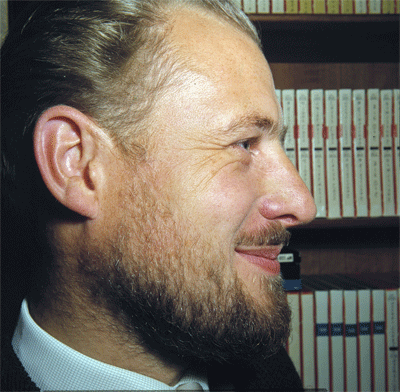 My life with Karl Emil Knudsen -
Jazz record collector extraordinary and lifelong friend.
To be able to describe my relationship with K.E.K. for more than 50 years, I will begin with the end of this long and giving friendship - for me at least.
On the 13th day of September 2003 all of his family and many of us friends gathered in the Grundtvig Church in Copenhagen to say our last goodbye to Karl Emil, who had passed away one week before.
It was the most remarkable funeral ceremony, that I had experienced in all my life, and everybody, who took part in it, got a memory for the rest of their life, about an important man's last performance followed by a traditional jazz band at full power from the church to the grave at Bispebjerg Churchyard and assisted by the police, who directed the traffic, so we could all pass one of the busiest streets safely.

When we reached the site of the grave and should lower the coffin into the ground, we
discovered, that the grave right next to K.E.K.'s belonged to Henning Bahs, another well-
known and creative man with a career in the making of movies and TV-Shows. It was alltogether
a worthy conclusion of an active and deeply exciting life, that could only be admired from
at least all jazz lovers' point of view, and I imagine, that it was the nearest you could
find like an authentic New Orleans funeral right here in Copenhagen, Denmark - believe it
or not. *

This man I met in 1951, when we were 22-23 years of age at the home of a common friend Ernst Lindhardt Jensen, who was also a collector of jazz and blues records all through his life. My first impression of K.E.K. was absolutely positive, but also a bit scary, because he was obviously in possession of an unusual energy and enormous visions, which the rest of our group more or less lacked. He was no doubt a man, who wanted something to happen in his life, and for a long time we always called him "Death of a salesman" borrowed from Arthur Miller's famous novel. He always carried a typewriter in one hand, while the other hand was lifting a heavy brief-case filled with letters, papers and the like.

K.E.K.'s life as a businessman and owner of a growing record-company was never my biggest interest, and we did not speak very much about it. Some times the economy was fine, and at other times it was bad. Suddenly he could buy a nice house in S011er0d, because a pop-tune sung by Grethe Sønck became a best-seller, and then at other times the bank refused to pay out anymore, which made him worry a great deal. My own very modest contributions to his firm were a few donations from my own collection, mostly of blues and piano-roll records. No - my main interest was of course his still growing record collection, that I was chosen to keep in order for many many years. We had a 100 % trusty relationship to each other, that was very good. I could borrow everything I wanted to hear or read. I had my own office and desk at the top floor of Dortheavej No. 39, and of course I had my own key to the house. Because of this a whole world of good jazz and blues was opened to me, and it changed my life. He filled my everyday with Black Beauty and White Heat to use a lyrical transcription of the essence of jazz introduced by Frank Driggs.
K.E.K. opened countless doors for me at f. inst. recording sessions and many concerts as well as private parties, all more or less arranged by him in Denmark.

He brought me together with people like Big Bill Broonzy, Champion Jack Dupree, Lonnie Johnson, Memphis Slim, Speckled Red, Sonny Terry and Brownie McGhee, Bukka White,Sleepy John Estes, Big Joe Williams, Otis Spann and many other famous blues singers, and much later he bought all the important austrian DOCUMENT BLUES records, because I begged him to do it, which meant that you could listen to practically all blues and gospel music recorded prior to 1950 - certainly a generosity, that I'll never forget as long as I live.
He also introduced me to many great jazz musicians both danish and foreign, of which the greatest experience for me was meeting George Lewis' New Orleans Band in 1959, definitely one of the absolute climaxes in all my life, but also many other famous names like f. inst. Ben Webster, Buck Clayton, Mezz Mezzrow, Albert Nicholas, Edmond Hall, Muggsy Spanier, Chris Barber, Acker Bilk, Nat Gonella, Eva Taylor and not to forget our danish friends Adrian, Fridolin, Henrik Johansen, Fessor, Papa Buefs Band and many others.
On the personal plane we were also tied to each other in a good way. As a young man before any of us were married I often spent the night between Saturday and Sunday in Buddinge, where he lived at that time, just as he for shorter or longer periods after 1953 lived at my home in the South of Copenhagen. Later in life we have visited each other's homes many many times. I knew his two cute little girls Helle and Lene right from their start, and later on my wife and I enjoyed swimming in his outdoor-pool at Christmas-time. Right to the end of his life K.E.K has always been a steady guest in our summer-house in North Zealand one or more times during a summer, just as he has been a regular guest in our home in Hvidovre for birthdays, Christmas celebrations and other festivities during the winters.
Living in the shadow of a great man in his field of activity has been a very good thing for mV economical abilities. Instead of buying a lot of expensive records over many years I just borrowed Karl Emil's records and copied them onto tapes, which I still listen to with great pleasure. He knew exactly how much I earned in my job and was always ready to help out, whether it was buying a new tape-recorder or hundreds of tapes and jazz books. Finally he has also given me many presents during our long friendship mostly books issued by himself at his own publishing firm JAZZMEDIA, but I'm quite sure, that without his help, I would only have a fraction of what I have today, and of course I am forever grateful to him. During his later years he lost most of his hearing ability, which made it very difficult for him to evaluate the quality of music, that he wanted to issue, so a few of his nearest friends had to act as reserve-ears for him f. inst. myself and especially our good friend Anders Stefansen.
I have never been employed by K.E.K. in his firm, but anyway I have felt connected to it in the winter season, when I have worked every thursday hand in hand with K.E.K. himself as well as with his good, steady and always friendly staff like Mona Granager, his absolute favorite. (As he said many times: No Mona = No firm) Chris Olesen, Niels, Brian, Erik and of course my personal good friend Allan Stephensen. They have all accepted me and received me in this world of jazz and blues.
ARNE SVENSSON. TLF. 24637525.